May 17th, 2023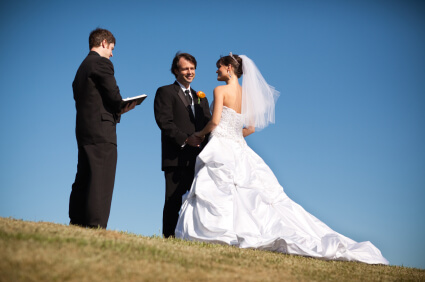 The United States is now a multicultural country filled with people who identify with all kinds of religions. You might argue that it has always been this way, as even the early Christian settlers came from a range of denominations. One of the most important processes in any religion is marriage, and each religion has a slightly different way of administering these religious processes. If you are approaching marriage in the United States, you might wonder who can legally officiate a wedding. Can any religious official take this role? How do you make sure your marriage is legally binding? Let's find out:
It Depends on the State
Like almost any other aspect of America's legal system, regulations on this subject may vary by state. If you look at each state's wedding laws, you get a wide variety of different answers. States may mention specific religious officials such as pastors or rabbis – or they may simply refer to "any official of a religious society." In some states, these religious officials must be licensed. Some states refer to "regularly ordained ministers or priests" of any religious sect or denomination. California specifies that this person must be at least 18 years old. 
The general consensus is that just about anyone can officiate a wedding if they become legally ordained by a church. Some churches, such as the Universal Life Church, allow you to become ordained within minutes. This has become a popular option for spouses who want to have their best friends ordain their weddings, for example. 
Officiating a Wedding as a Member of a Minority Religion
But what about more obscure religions? Buddhism is one of the trickiest religions when it comes to marriage since marriage is not really part of a traditional monk or nun's duties. In fact, some sources state that Buddhist monks aren't even allowed to officiate weddings due to their religious beliefs. There are some Buddhist temples that do officiate weddings, however – such as "Christian Buddhist temples." Alternatively, a friend could simply get ordained through the Universal Life Church and officiate a wedding according to your Buddhist views. 
What about even more obscure religions? As crazy as it might sound, even Satanists can perform marriages in some states. Many Satanist churches are legally recognized as legitimate religions in the United States, and their ministers are ordained. Many states, including Indiana, allow ordained Satanic ministers to officiate weddings. If you ever feel as though your religion is too obscure to be legally recognized, you can always have a member of your church ordained through the Universal Life Church (ULC). This will allow them to officiate a wedding–perhaps your own–and not have to profess specific religious beliefs beyond the ULC's two core tenets:
Do only that which is right.
Every individual is free to practice their religion in the manner of their choosing, as mandated by the First Amendment, so long as that expression does not impinge upon the rights or freedoms of others and is in accordance with the government's laws.
How to Make Sure Your Wedding is Legally Binding
With all that said, having a legally recognized minister officiate your wedding is only part of the equation. You may also need to satisfy a number of additional requirements, including having at least one witness of the ceremony and having your marriage contract approved by your local court. Check the ULC's "officiate a wedding" page for contact information for the county clerks, and for up-to-date information on the ULC's current court victories, check out the case law website.