April 30th, 2019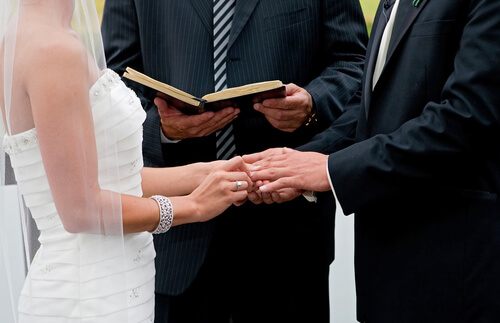 Are you looking for a unique way to personalize your wedding ceremony? If you and your partner are searching for something truly special, consider asking a close friend or family member to officiate your wedding. Having a friend join your lives together in matrimony can really add a memorable quality to what will already be an important day in your lives. Of course, there are a couple of preliminary steps you'll need to take to make sure there aren't any snags along the way.
From finding the right person for the job to helping that individual obtain a minister license, there are a couple of bases to cover to ensure everything goes smoothly. To get the perfect wedding officiant for your big day, be sure to keep these things in mind.
Ask Someone You Trust
Some people in your lives might be wonderful friends, but that does not necessarily make them great public speakers. Before you ask someone to officiate your wedding, be sure that this is a person who will feel comfortable taking on the role. You don't want to put someone you care about in the awkward position of agreeing to something he or she doesn't actually want to do. In most cases, you'll have a good feel for whether or not this friend is a person who can get in front of a crowd with ease.
It can also be a good idea to have a private chat with your significant other about the decision before any hasty choices are made. The person who performs the ceremony needs to be someone you both agree upon. This means it needs to be an individual you both trust to do a great job. By talking it out beforehand, the two of you will make sure you're on the right page with who you want to take on the task.
Get Ordained
After your friend has decided to be your wedding officiant, he or she needs to become a minister. The best way to go about this process is to become ordained online. There are a number of fantastic benefits to going this route. For one, it is the fastest way to obtain a minister license. It is also incredibly simple and does not require a great deal of effort. All you need is an internet connection and a few minutes. Finally, and perhaps best of all, it is free.
That's right, you won't need to shell over a small fortune to help your friend go through the process. Becoming an ordained minister online costs nothing and will most likely be the least complicated aspect of planning your wedding. Though it is an easy process, your friend will still need to go online and go through the few necessary steps required to get ordained.
Check the Law
One last thing to keep in mind is to look over local marriage laws to make sure you're following the right protocol. While online ordinations are recognized without any issues in 48 states, there have been some issues in Virginia and Pennsylvania due to certain circumstances. By looking into the actual laws in your county, you'll have a better understanding of what needs to happen to have a friend be your wedding minister. Aside from signing the marriage license, this individual won't need to worry about any other legal matters.
When you decide to ask a close friend to officiate your wedding, you are transforming your ceremony into a more intimate, personal experience. Be sure to follow the right preliminary steps, and make sure your friend registers to become an officiant online. Once that's taken care of, you'll be ready to walk down the aisle toward the familiar face of someone who is about to change your life in magical ways.