April 30th, 2014
North Dakota no longer has one of the most restrictive abortion laws in the United States. In April, Federal Judge Daniel Hovland overturned a stringent anti-abortion measure signed last July by Republican Gov. Jack Darymple calling it "invalid and unconstitutional." Reproductive rights groups cheered the ruling. The law had prohibited a North Dakota abortion after a fetal heartbeat had been detected; this could have been as early as the sixth week of pregnancy and before many women may even have realized they were pregnant.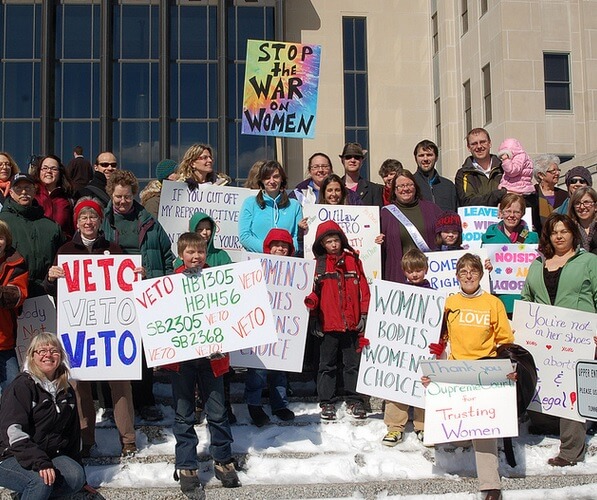 State by State
In 1973, the Supreme Court legalized abortion in all states with its historic Roe v. Wade ruling. Each state has different requirements as to what stage of pregnancy an abortion can take place. Generally abortions are permitted until a fetus is deemed viable, meaning it is able to survive outside the mother's body, which is usually around 22-24 weeks. Some states ban abortions after the 2nd trimester (27-28 weeks) and other states have no time limits on when abortions can occur. This issue has been highly contentious for years, and has been the deciding factor in some political races.
North Dakota Legislation
The six week abortion ban is one of four anti-abortion laws signed by Gov. Darymple in 2013, all with the strong support of North Dakota's Republican led legislature.  In anticipation of legal fights, the state's Attorney General, Wayne Stenehjem, asked lawmakers to earmark $400,000 last year to defend any law suits that were filed due to the new North Dakota abortion laws. Stenehjem indicated he was not surprised by Judge Hovland's ruling since the judge had postponed the implementation of the law while the lawsuit was pending. Stenehjem plans to study the ruling and talk to Gov. Darymple before make a determination about the state's next course of action on the matter.
The recent ruling by a federal judge invalidating North Dakota abortion legislation that banned the procedure after a fetal heart beat could be detected is the latest legal battle on this important issue.